Map Unavailable
Date/Time
Date(s) - 07/16/2023
3:00 pm - 5:00 pm
Location
Art in Bloom Gallery
Categories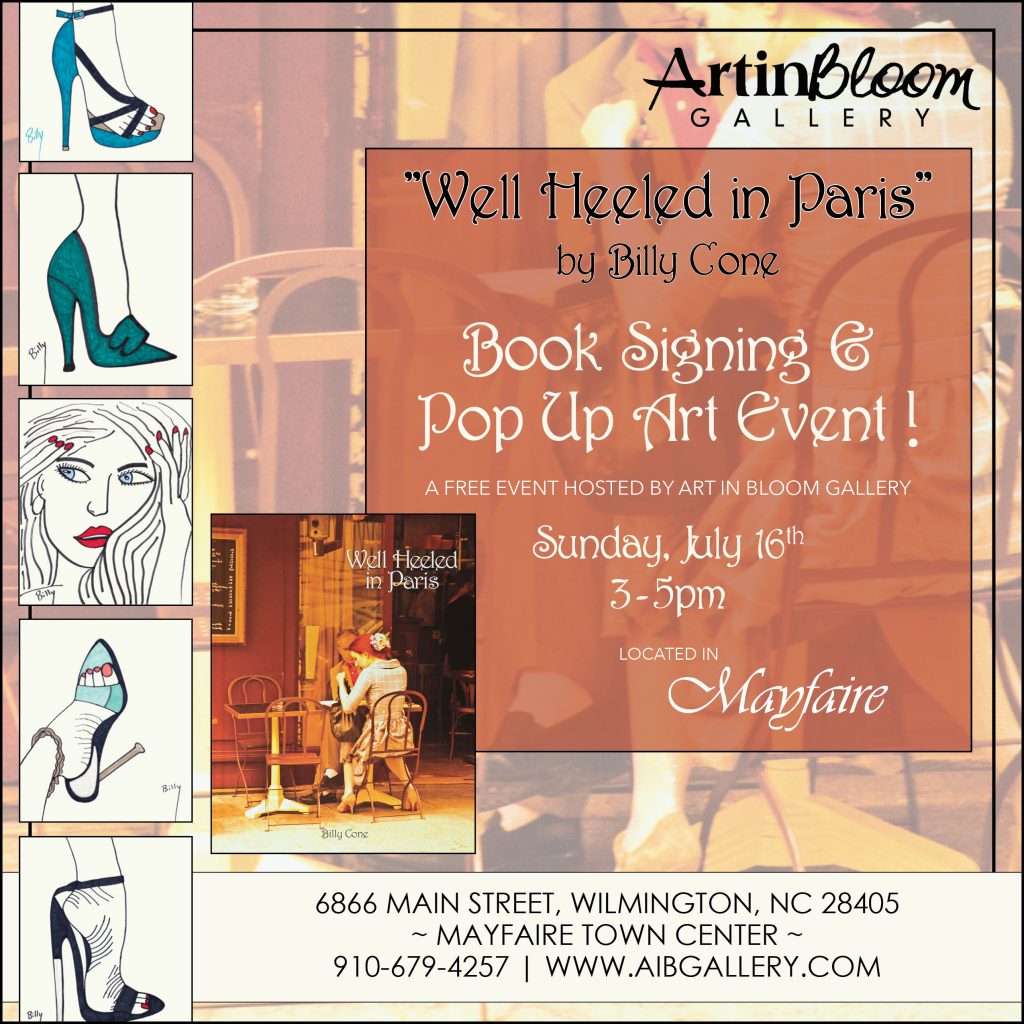 A Book Signing & Pop Up Art Event
Sunday, July 16th, 2023  ~  3-5pm
We invite you to celebrate the newest book of photographs, "Well Heeled in Paris" by Billy Cone. Meet the artist, purchase your own copy of his book and join us for a book celebration and signing along with refreshments and conversation. The reception is free and open to the public.

"Well Heeled in Paris" by Billy Cone
Just when many art books have become wordy, academic, and even fleeting in impact, Billy Cone crafts the definitive fine art coffee table book of photography of high heels in Paris.
Cone is a purist.  His eye for detail and subtlety in the images of women going about their daily activities in high heels is extraordinary.  Cone's pictures are colorful, playful and beautiful.  In every photograph he strives to portray a cultural fashion phenomenon—the wearing of high heel footwear in the City of Enlightenment.  For Billy Cone, "Emotion is what art is all about."
In his catalogue of women in heels with the backdrop of Paris, Well Heeled In Paris delights the senses and heightens emotion.
Billy has published four books of photography with film.  This is his first book created with digital technology on 100 pound glossy paper.  He desired another center piece coffee table book for his contingency and fans.  Well Heeled was conceived over 15 years ago when Cone had been capturing what he calls, "Hundred year black and white photos with old Paris, leaving out all modernities."  These brilliant cliches have yet to be shown to the public.  So, in this endeavor, there are "lag times," as Billy calls the times when there is almost nothing of note to photograph.  This is when it hit him.  He noticed the women around him wearing heels crossing streets, riding scooters, walking children to school, enjoying café life, riding bikes and doing just about everything in heels.  He turned his camera in that new direction despite the inner battle of feeling like a paparazzi and began a body of work he had no particular plans for at the time.  This body of work is what you see in this exciting oeuvre with some images meticulously colored for emphasis and intrigue.  This is Well Heeled In Paris!
Billy says that on average, people look at the pictures of photography and art books, leaving the text behind.  "So many art books are wordy, but who has the time to read them," he says.  "Plus, often these books belong to someone else or a bookstore."  There is no time for text.  Therefore, Cone created an art book with short quotes about heels and an enticing intro to a world many have missed—Well Heeled In Paris.
The book is an escape from ordinary life as a book should be.  Here is a chance for a pleasant distraction, what people used to call a "short read."  Yet Billy believes that as Ansel Adams once said, "Photographs are often looked at, seldom looked into."  And Billy likes to say that a picture is not what is imagined, it's what is seen.  Many never actually see what is there, because they imagine myriad other things.  Here is a chance to see and feel the emotion of art.