Map Unavailable
Date/Time
Date(s) - 10/05/2023 - 11/19/2023
All Day
Location
Art in Bloom Gallery
Categories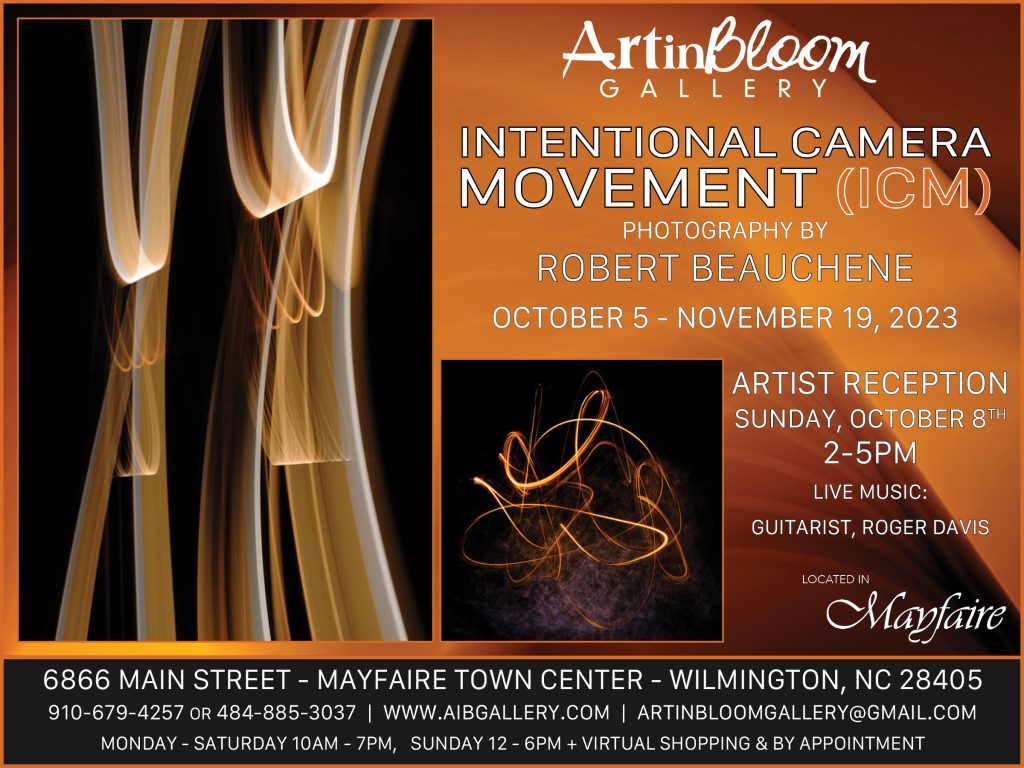 The gallery is excited to show new work by photographer, Robert Beauchene, in the upcoming exhibit "Intentional Camera Movement (ICM)"
Unlike many ICM photographers who choose to retain the recognizable forms and subjects of their photos – simply "blurring" fairly traditional subjects (like landscapes, wildlife, portraits and street scenes), Robert Beauchene centers his attention on light – it's shape, tone, texture and intensity. The results of this approach are images that are often absent of any recognizable form but are full of interesting lines, colors and patterns. Think abstract expressionist painting – but with a camera.  As with any photographic technique, Beauchene utilizes light, location, camera settings, etc. to intentionally arrive at a pre-conceived "vision". In other words, these photos are not "accidents" – they are the result of careful planning and the precise use of the tools at hand. All of his images are created in camera with very little, if any, post processing or digital manipulation of any kind.
On view along with this exhibit will be "Poet's Garden: New Paintings by Helen Mirkil" and "Ceramic Vessel Sculpture & Mixed Media Art by Gayle Tustin".   These new shows by our featured artists will be on view from October 5 – November 19, 2023, with an opening reception on Sunday, October 8th, from 2-5pm featuring live music by solo jazz guitar, Roger Davis!
Click here to preview the work that will be available during his show. 
About the Artist
Robert Beauchene is a lifelong photographer and musician originally from Poughkeepsie, NY. His black & white work can be seen throughout the area under the brand CAPE FEAR NOIR and his abstract work has received international recognition. He also builds custom furniture! He lives in Wilmington with his wife, Polly.