Date/Time
Date(s) - 09/11/2020 - 10/18/2020
All Day
Location
Art in Bloom Gallery
Categories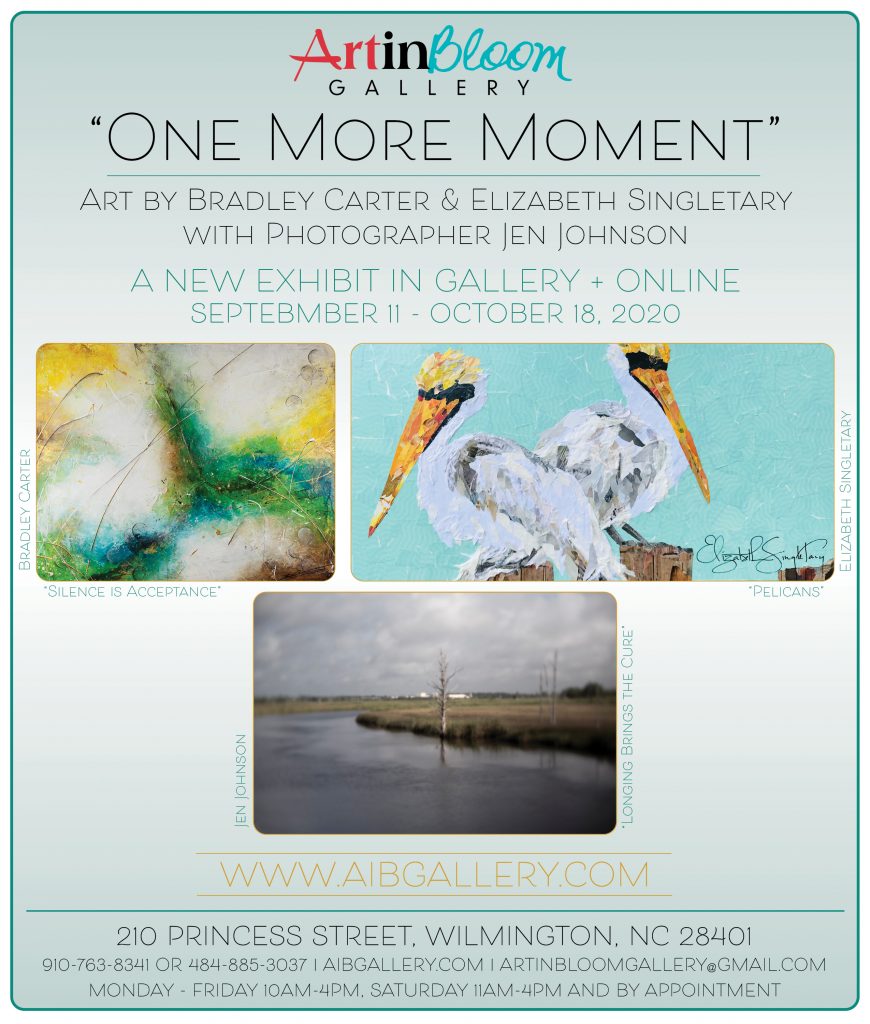 "One More Moment: Art by Bradley Carter, Elizabeth Singletary & Jen Johnson" is a new exhibit pairing contemporary artists with painting and paper. The exhibit opens on Friday, September 11 and continues through October 18, 2020.
One More Moment with Bradley Carter, Elizabeth Singletary and photographer, Jen Johnson features artists working with a wide range in media from paintings, collage and photography.  Bradley Carter's unique style of painting is based predominately in Abstract Expressionism. Complementing Brad's paintings are the exquisite and color filled "paintings with paper" by collage artist, Elizabeth Singletary.   Our photography feature is Jen Johnson.  Jen creates photographs that are a contemplative inquiry into psychological space, place, memory, loss, and longing.
The exhibit will be in the gallery and will have many virtual components including a virtual tour, artist videos and more. View the virtual tour!
Due to ongoing COVID-19 adjustments, this exhibit will be in the gallery and online beginning on September 11th. The gallery is now open for gallery hours.   Face coverings are required and we do have additional supplies if needed. 
About the Artists 
American Artist, Bradley Carter, is an award winning, international selling artist who grew up pursuing his passion for art in Virginia before moving to the North Carolina in 2007, where he currently resides in Wilmington, NC. He predominately works in the medium of painting with his passion in Abstract Expressionism, but his works also include collage, paint skins, and furniture.
The colorful bits and pieces of Elizabeth Singletary's life are imitated in her chosen art form of collage—a mix of down-home charm and sweeping sophistication. ​Her great appreciation for nature is incorporated in her artwork, which she describes as "painting with paper." She works alone, with music playing in the background, and offers up a prayer that her works will be full of light and inspire happiness. She hides secret imagery in each piece, giving gazers a happy little hunt-and-find exercise each time they look at her collages. This fun and lively approach to art has garnered much attention. Elizabeth's commissioned pieces are unique as they incorporate family photos, mementos, quotes, and personal imagery hidden within. Her artwork has been commissioned for many corporate and private collections.
Our photography feature, Jen Johnson creates photographs that are a contemplative inquiry into psychological space, place, memory, loss, and longing. Her dreamlike photographs explore the beauty and complexity of the search for home in our ever-changing interior and exterior landscape. Jen's images reflect the metaphorical way she sees the world as a visually impaired photographer.
Click here to view the work in the exhibit. 
As of right now Fourth Friday receptions, held during the Arts Council of Wilmington's Fourth Friday Gallery Night are on hold until January of 2020.  Stay tuned for other virtual opportunities!