Date/Time
Date(s) - 03/08/2020
2:30 pm - 4:30 pm
Location
Art in Bloom Gallery
Categories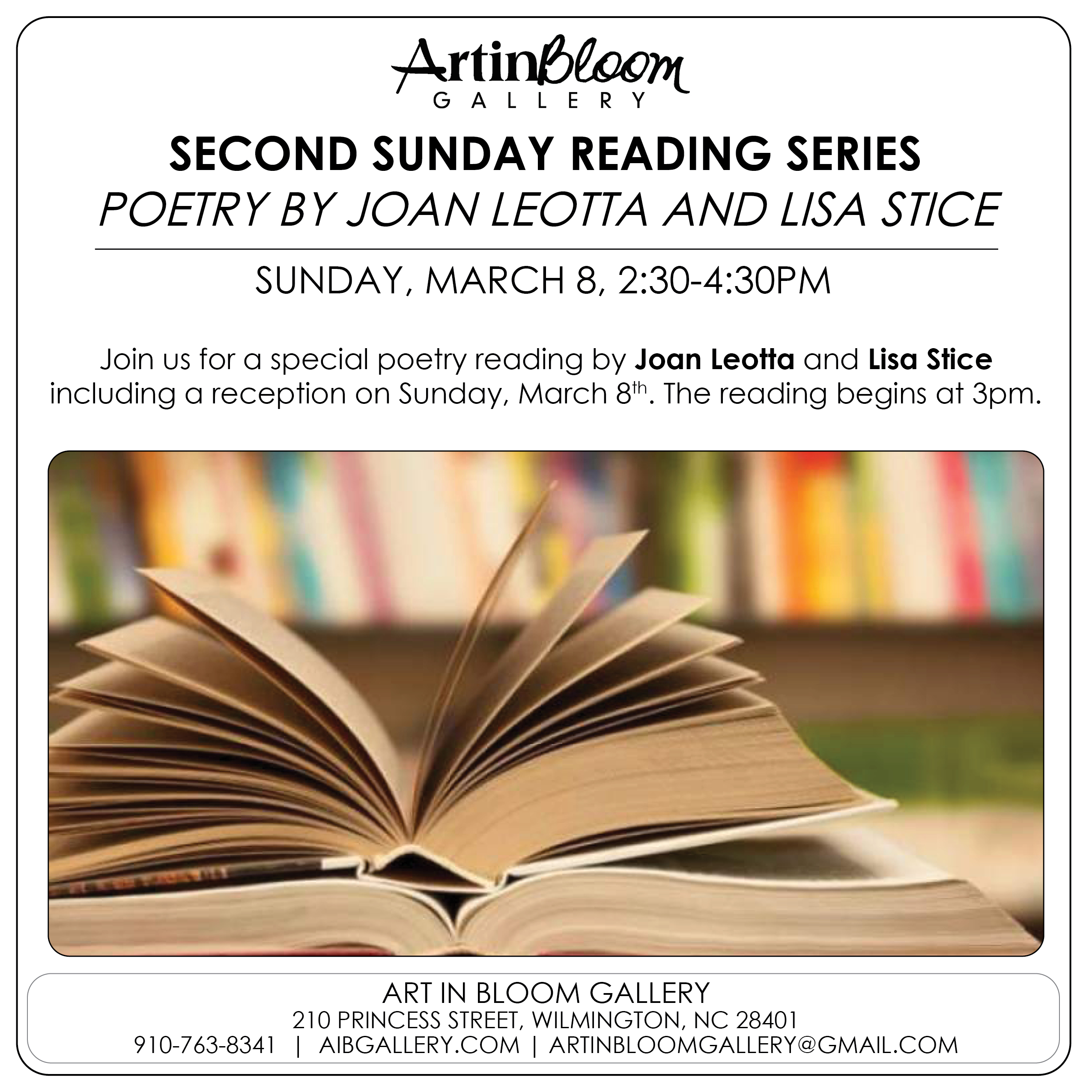 Join us for a special poetry reading by Joan Leotta and Lisa Stice including a reception on Sunday, March 8th, 2:30 – 4:30 pm, at Art in Bloom Gallery in downtown Wilmington. The reading begins at 3pm. Refreshments provided!
Joan Leotta lives in Calabash, NC and is a journalist, playwright, short-story writer and author of several mysteries and romances as well as a poet. In addition, Joan is a performer of folklore and personal tales and is about to debut a one-woman show featuring Louisa May Alcott's tie as a Civil War Nurse.
Lisa Stice is a poet, mother, and military spouse. She is the author of two full-length poetry collections, Permanent Change of Station (Middle West Press, 2018) and Uniform (Aldrich Press, 2016). In addition, Lisa is an editor and a Pushcart Prize nominee who volunteers as a mentor with the Veterans Writing Project. She is a poetry editor for The Military Spouse Book Review, for Inklette Magazine, and a writer for the Military Spouse Fine Artists Network (Milspo-FAN).
The reading and reception are part of the Second-Sunday Reading Series each month in 2020 at Art in Bloom Gallery. Each Reading has a different focus including guest writers and is free and open to the public. The series celebrates the convergence of the literary and visual arts.