Date/Time
Date(s) - 06/26/2020
6:00 pm - 9:00 pm
Location
Art in Bloom Gallery
Categories
Fourth Friday Gallery Night in June is canceled due to COVID-19 restrictions.
View and purchase art via our website at aibgallery.com/artists/ or by phone 484 885 3037.  We are also open by appointment by calling 484 885 3037.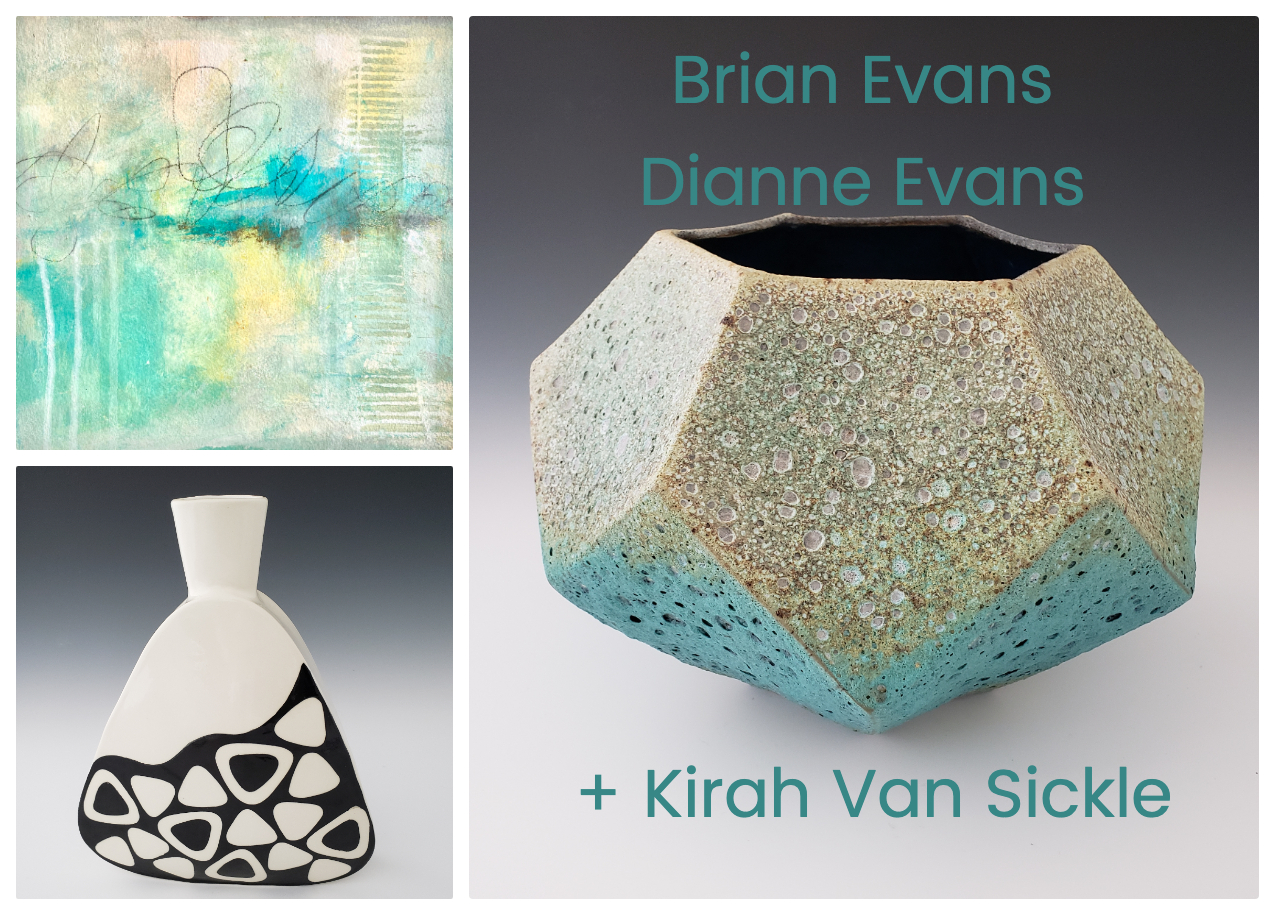 "New Art by Brian Evans, Dianne Evans & Kirah Van Sickle with Photography by Susan Francy" features three artists working in a variety of media.  These three Wilmington based artists are collaborating  this new exhibition. Brian and Dianne are ceramic artists who play with light and shadow on three dimensional surfaces in their functional and decorative pottery.  Kirah's acrylic and mixed media works explore incorporating found objects and papers with paint glazes.
Our photography feature, Susan Francy is photojournalist, commercial photographer and art photographer for more than 35 years. The overall theme of her art images could be described as "ordinary beauty, closely observed." These images are often from nature and although they are focused on still life subjects, there is a dynamic sense of movement and emotionalism in them. In recent years she been playing around with scanning objects, as opposed to photographing them, creating "scanographs". Susan lives and works in Wilmington.
About the Artists
Brian Evans' work conveys inspiration that he finds in his surroundings. Sometimes something as simple as the blade of a saw or a bellows used to blow on a fire can inspire an entire series of work. This body of work conveys simple found objects that inspire minimal or complex linear forms. Brian Evans was born in Beaufort, SC, but was raised in Western Pennsylvania.  He graduated in 1993 from Indiana University of Pennsylvania with a B.A. in Studio Art.  He moved to Wilmington, North Carolina in 1995.  He studied ceramics through the Continuing Education program at Cape Fear Community College while searching for an outlet for artistic expression. Brian studied under a Japanese-American Potter,  Hiroshi Sueyoshi. Brian is currently serving as President of the Coastal Carolina Clay Guild.
Local artist and potter, Dianne Evans, has had a passion for art since childhood. She was born and raised in scenic Indiana, Pennsylvania. Dianne developed an interest in art while studying under an inspirational high school art teacher. This experience also inspired her to want to become a teacher. Dianne earned a BS in Elementary Education from Indiana University of Pennsylvania in 1994. In 1995 she moved to Wilmington, North Carolina where she began teaching in several private schools. Although she is no longer teaching, she works at the University of North Carolina Wilmington. Continuing her love of art, she took art classes at UNC Wilmington in 2009-2010 where she focused on sculpture and ceramics. A field trip to Penland School of Crafts sparked an interest in pursuing ceramics as an art form.  Dianne is an active member of the Coastal Carolina Clay Guild and participates in local art shows. She predominately works in the medium of clay focusing on hand-built pottery.
Kirah Van Sickle is an adventurer at heart. Her early years set a foundation for travel, exploration and visual storytelling. Her acrylic and mixed media works explore incorporating found objects and papers with the paint glazes. These are deeply personal expressions of her memories and dreams. In addition to her studio practice, Kirah is a dynamic instructor and lecturer, leading custom studio courses through museum schools and local art associations, directed to both beginner and seasoned artists. She is an award-winning illustrator, graphic designer and studio artist, a certified Golden Artist-Educator, and active in community arts programming, preservation of cultural resources and enhancing arts education. Kirah lives on the Cape Fear Coast of North Carolina and is a staff instructor at the Cameron Art Museum, Johnston Community College, and Cape Fear Community College.
The exhibit continues through July 19, 2020.
The Arts Council of Wilmington/New Hanover County is pleased to coordinate the monthly Fourth Friday Gallery Walk of galleries and arts spaces in downtown Wilmington. The self-guided tours are held from 6:00-9:00 p.m. on the fourth Friday of each month. The event hopes to build on the coordinated marketing effort which has made downtown Wilmington a popular destination for art lovers.