Date/Time
Date(s) - 05/24/2019
6:00 pm - 9:00 pm
Location
Art in Bloom Gallery
Categories No Categories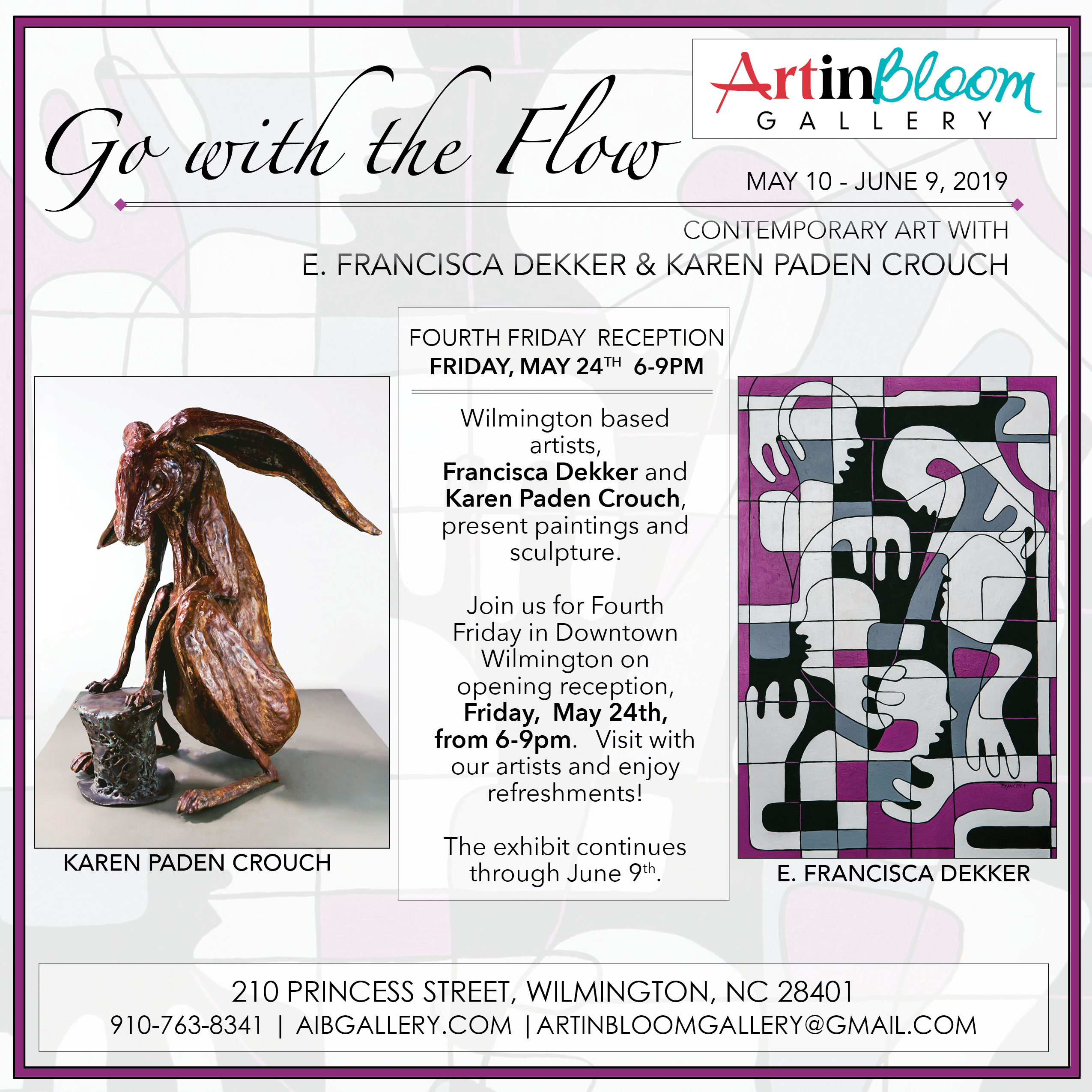 Join us for the Arts Council of Wilmington's
Fourth Friday Gallery Nights
and reception on Friday, May 24, 6-9pm. Visit with our artists and enjoy refreshments. The exhibit continues through June 9, 2019.
"Go With the Flow: Contemporary Art with E. Francisca Dekker and Karen Paden Crouch" is an exhibit playfully pairing two contemporary artists with painting and sculpture. Both of these Wilmington based artists design work that evolves fluently through the creative process.
The paintings and drawings, in acrylics, watercolor and inks, by E. Francisca Dekker, are a direct reflection of the experience she is having. What inspires her is simply nature, listening to music and seeing someone being quiet or people in motion or dancing. Subjects are everyday people and life-models. As a self-taught artist and native to The Netherlands, there are no boundaries and judgments, just the freedom to express herself in gestural lines, motion and colors. Her ever evolving style is in fluent movements – sometimes whimsical and abstract – with contrasting lines. Choice of colors is often symbolic, vibrant and bold to deepen the sense in motion in body, heart and soul.
Karen Paden Crouch creates sculpture because she must. It is her passion, and every day that she is allowed to make something, it is an unexpected blessing. Karen's metal sculptures are grounded in the structure and movement of living things. "When I work in bronze, I begin with a flat sheet from which I cut shapes. I heat these shapes with a torch and beat them into contoured pieces which I then weld into the sculpture's form. Files, various abrasives and chemical patinas give the sculpture its final finish. Although I begin with a vision, the sculpture takes its own direction; if I will listen it will be a better piece. The found metal pieces grow from collected shapes. Sometimes I have an idea; sometimes I just start juxtaposing parts until an image emerges. But I have always lived by instinct and, with assembled pieces, as well as the bronzes, the sculpture will tell me where to go if I am patient and listen."
In addition, view art by Elizabeth Darrow (oil and collage on canvas), Debra Bucci (oil on canvas), Traudi Thornton (ceramics), Dumay Gorham (sculpture), Brian Evans (ceramics), Richard Bunting (blown glass), Joan McLoughlin (painter), Bradley Carter (painter) and other artists.