Date/Time
Date(s) - 06/05/2021 - 06/06/2021
12:00 pm - 4:00 pm
Location
Art in Bloom Gallery
Categories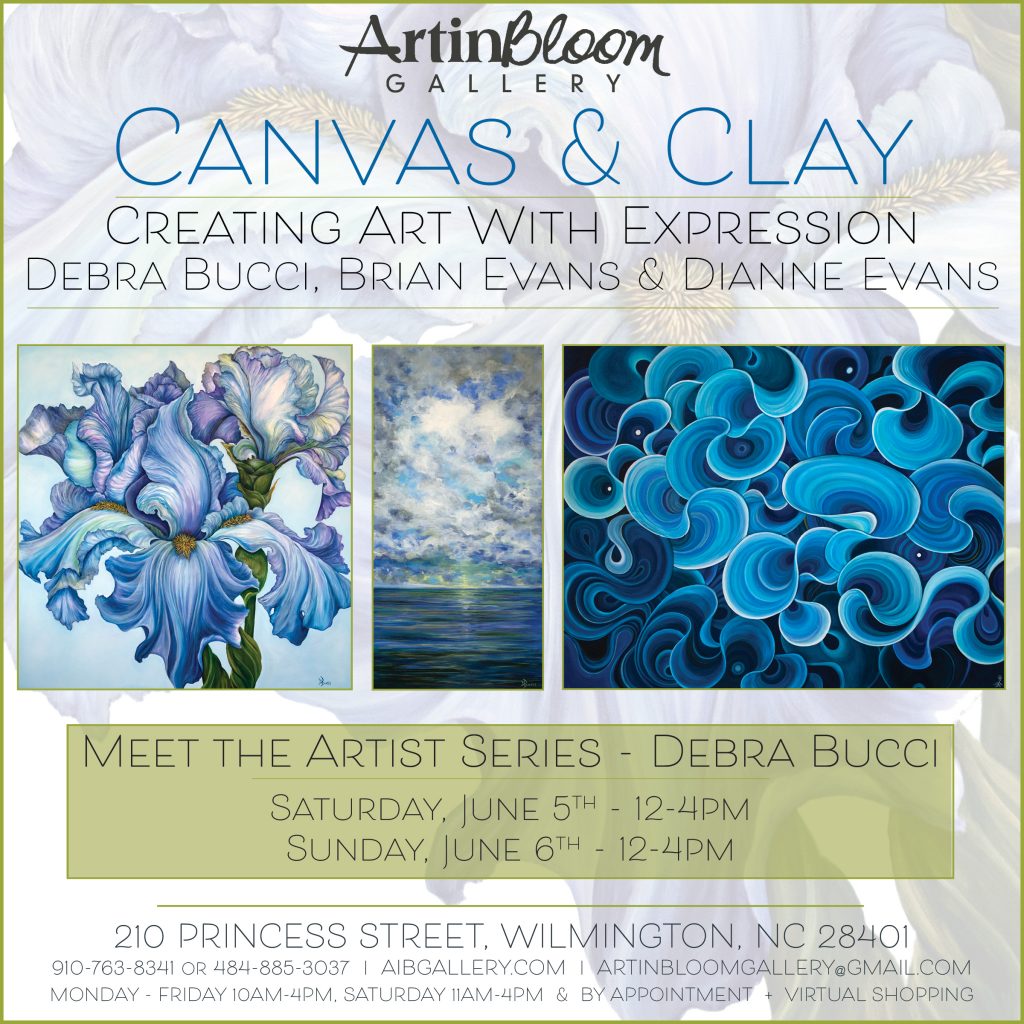 Join us in the gallery on Saturday, June 5th from 12-4pm or on Sunday, June 6th from 12-4pm to meet one of the featured artists in our current exhibit "Canvas and Clay: Creating Art with Expression."
"Canvas and Clay: Creating Art with Expression" is a new exhibit celebrating the two and 3 dimensional art of Debra Bucci, Brian Evans and Dianne Evans along with featured photographers. The exhibit continues through June 20, 2021.
Debra continues to experiment with abstract and nature-based images to build emotional connection. She is exploring the rhythm of repeating elements with high contrast to build depth and explosive color to lift up and empower the viewer and she is known for her vibrant and engaging floral paintings.
Dynamic color palettes, moving compositions and translucency from layering oils all work together to enhance the depth and bring Debra's art to life. Her inspiration comes from the high's and low's of the  human experience and believes this tension makes the art connectable. Her style is rooted in realism and woven with abstract elements.
Debra is a published illustrator and has achieved success as a licensed fine artist. Her art has been featured in Plow & Hearth magazine and can be found on ArtNeedlepoint.com. She has public and private collectors throughout the US including Savorez Restaurant and Wilmington Magazine. She is an anchor artist at Art in Bloom Gallery and is showing work at The Cameron Art Museum. She recently had a show at The District Kitchen & Cocktails and has exhibited at the Wilmington International Airport.
Debra has a BFA in Design from Drexel University where she studied oil painting and enjoyed a corporate career in Package Design. She has recently moved to Wilmington, NC with her husband "Art" and dog "T-Bone".
The gallery is open Monday – Friday 10am-4pm and Saturday 11am-4pm. If you prefer to shop from home the Art in Bloom Gallery Website (www.aibgallery.com) is always open! Purchase art online and pick up at the door or take advantage of our free local delivery. Plus we can also ship anywhere within the U.S.