Date/Time
Date(s) - 03/13/2020
6:00 pm - 9:00 pm
Location
Art in Bloom Gallery
Categories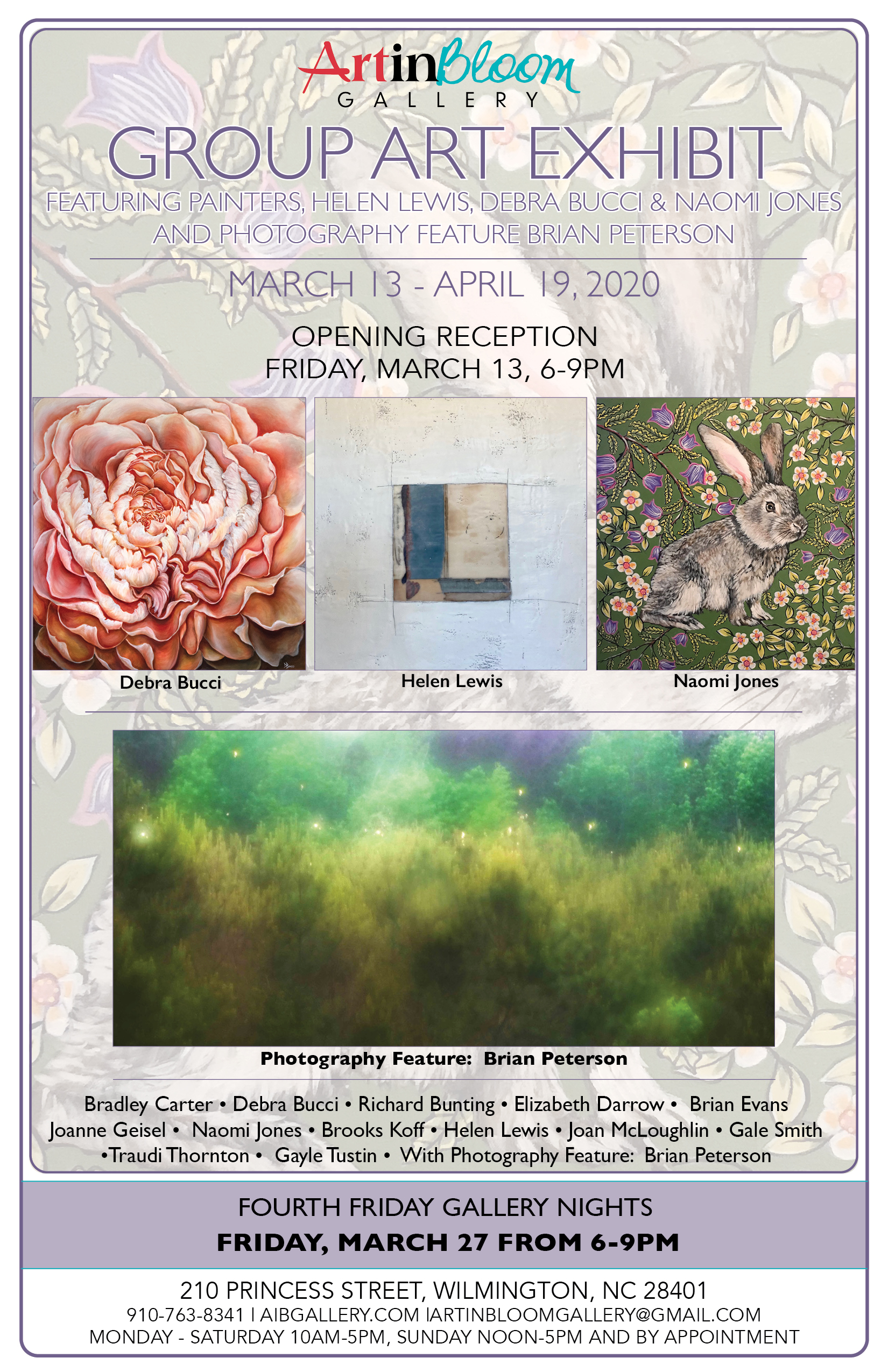 "A Group Exhibit"
Featuring Painters, Helen Lewis, Debra Bucci & Naomi Jones
and Photography Feature, Brian Peterson

This new exhibit featured three painters working in a variety of media along with our photography feature Brian Peterson.  Join us for the opening reception, Friday, March 13, from 6-9pm.   Visit with our artists and enjoy refreshments with live music by violinist, Shirley Lebo.
Our photography feature, Brian Peterson, has been a passionate explorer of the creative life, as a musician, visual artist, museum curator, critic, scholar, and critically acclaimed author. Peterson's photographs are in the collections of more than a dozen major museums including the Philadelphia Museum of Art, the Amon Carter Museum, the Virginia Museum of Fine Arts, the Denver Art Museum, The Milwaukee Art Museum, and the Library of Congress.
"Ancient Practice: Encaustic Art by Helen Lewis" is a new body of work investigating new directions with an ancient practice.  Helen Lewis works predominantly with pigmented beeswax, either in the form of encaustic or cold wax with oil. Both mediums involve building up many layers, then excavating, carving into and highlighting certain portions of the surface. "I love the luminosity, depth and textures that emerge," she says. "These techniques allow me to capture subtle nuances of color and texture details that may reference an allusion to a place, an object, or simply a feeling. Elements and marks that speak of the passage of time — weathered aging brick, peeling paint, old script and ephemera, lichen on stone — are fascinating and beautiful to me and frequently inspire my artwork. My creative process is an extension of my contemplative nature, which is evidenced in my finished pieces. Always, I endeavor to convey a sense of peace and tranquility through my art — that same calm centeredness I find along the coast." Her paintings often appear understated and minimalistic in tone, but upon closer inspection, intriguing and quiet conversations are happening within them.
Debra Bucci is known for her vibrant and engaging floral paintings. Dynamic color palettes, moving compositions and translucency from layering oils all work together to enhance the depth and bring Debra's art to life. Her inspiration comes from the high's and low's of the human experience and believes this tension makes the art connectable. Her style is rooted in realism and woven with abstract elements.  Debra is a published illustrator and has achieved success as a licensed fine artist.  She has public and private collectors throughout the US including Savorez Restaurant and Wilmington Magazine. She is an anchor artist at Art in Bloom Gallery and is showing work at The Cameron Art Museum.
Originally from New York, Naomi Jones currently resides in Greensboro, North Carolina with her husband, sculpture and mobile artist Jay Jones, their three sons, and dogs. She was awarded a BFA with Honors from State University of NY at Purchase. There she studied color photography, graphic design, sculpture and painting. She has worked in fashion, museum and trade show display, home furnishings and spent ten years as an elementary school art teacher. Besides painting, she loves food, reading and the ocean.
Click here to view the work featured in the exhibit.
Join us for the Fourth Friday reception, held during the Arts Council of Wilmington's Fourth Friday Gallery Night on March 27th, from 6-9pm.  The exhibit continues through April 19, 2020.