Map Unavailable
Date/Time
Date(s) - 11/24/2023 - 01/07/2024
All Day
Location
Art in Bloom Gallery at Mayfaire Town Center
Categories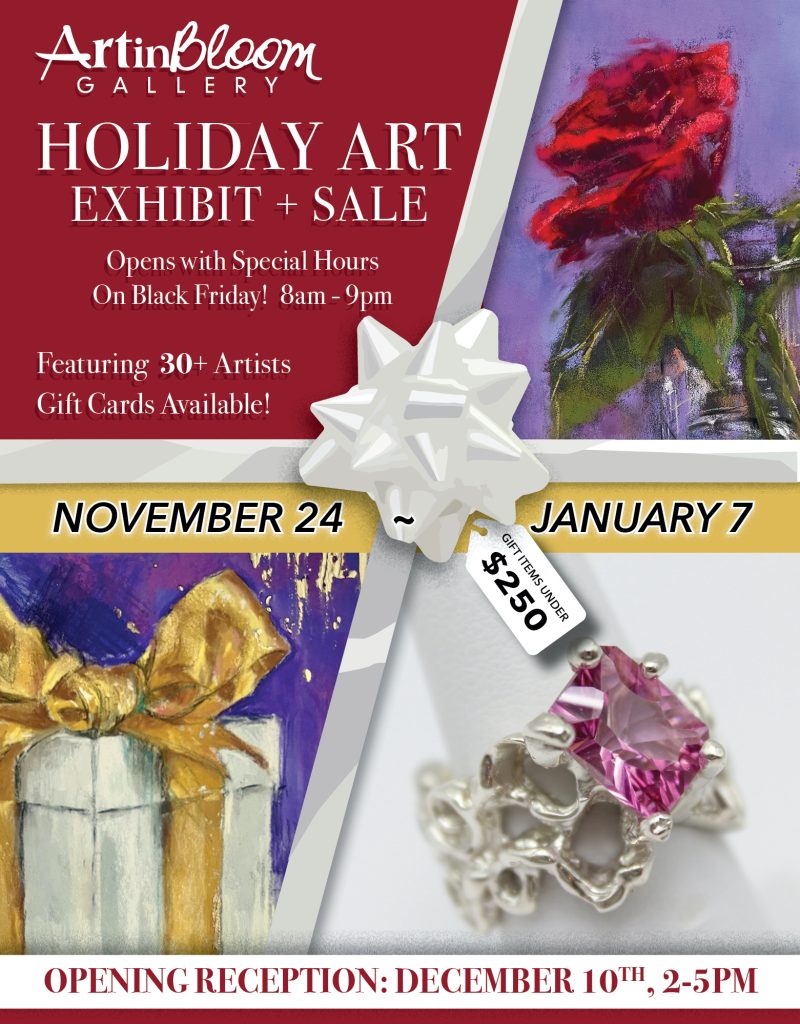 The 2024 Holiday Season and Art in Bloom Gallery will celebrate with a rotating exhibit featuring over 30 of Art in Bloom Gallery's Artists!  Feast your eyes on new work directly out of the artists' studios. Shop for unique works of art that come with an abundance of creativity, which will bring smiles all year round!  All of our artists are offering fine art under $250.
Click here to preview and purchase art online!
Along with this exhibit we will feature  
"UNUS MUNDUS: Photography by Jon Ann Tomaselli"
. Artist, 
Jo Ann Tomaselli
 finds that defining herself as a particular type of photographer is impossible. She believes that every moment behind the lens offers an opportunity to see the world from a different point of view. Her photographic goal is simplicity, be that in her landscape, nature, or portrait work.
Featured artists include:  
Robert Beauchene
 (photograher), 
Bradley Carter (painting), Debra Bucci (painting), Richard Bunting (blown glass), Judy Hintz Cox (abstract painter), Karen Paden Crouch (sculpture), Elizabeth Darrow (painting), Brian Evans (ceramics), Dianne Evans (ceramics), Susan Francy (photographer), Mark Gansor (painter), Joanne Geisel (painting), Jeri Greenberg (pastel painter), Curtis Krueger (photographer), Dave Klinger (photography),  Joan McLoughlin (painting), David Norris (printmaker),  Jameka Purdie (jewelry), Jessie Robertson (painter), Tim Schwarz (woodworker) Gale Smith (painter), Traudi Thornton (ceramics), Pam Toll (painter), 
Gayle Tustin
 (ceramics), 
Angela Rowe
 (painter)
, Kirah Van Sickle (painter), Roberto Vengoechea (jewelry), Melissa Wilgis (photographer) and Rebecca Yeomans (fiber artist), 
among others! 
The exhibit opens on Black Friday, November 24 and continues through January 7,
 2024
.