Exhibit Date :: October 5 - November 19, 2023
Opening Reception: Sunday, October 8, 2-5pm
In Gallery & Online
"Ceramic Vessel Sculpture & Mixed Media Art by Gayle Tustin"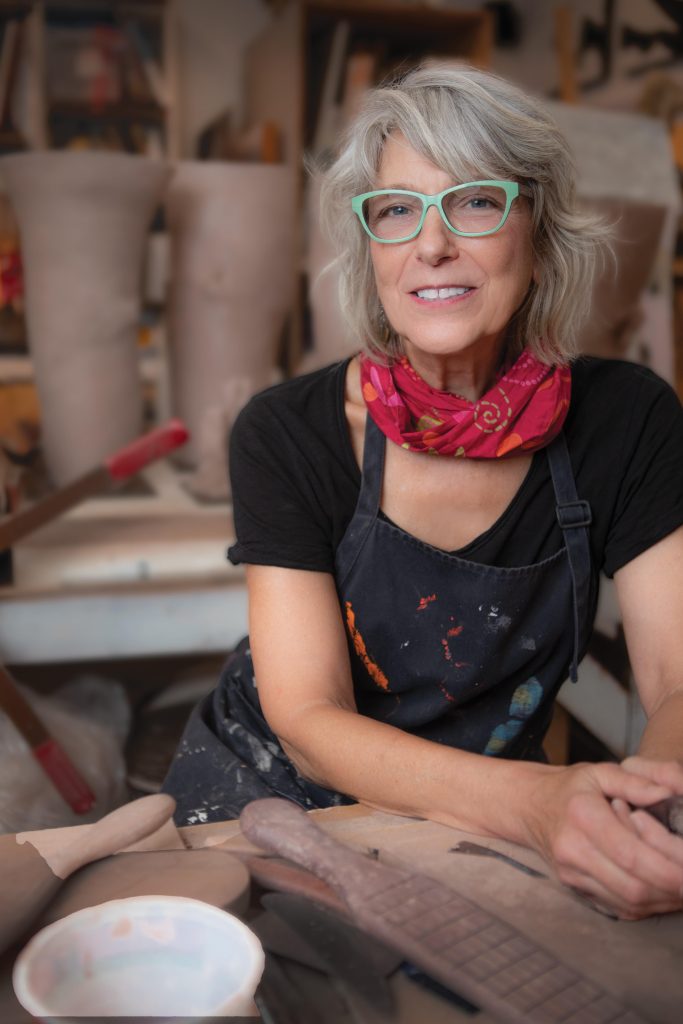 Gayle Tustin's upcoming exhibit "Ceramic Vessel Sculpture & Mixed Media Art" features her most recent red earthenware vessel sculptures using terra sigillata with oxide patinas, along with mixed media on painter's canvases. "Tustin finds inspiration from her environment, long walks, dreams, and sketches from traveling. Books, conversations, trash treasures picked up from the street, gesture sketches, antique stores, and swimming are other sources. Sometimes her ideas are planned out in the sketchbook, but more often her process represents a spontaneous flow."
Gayle works out of her home studio and has been a fixture in the Wilmington arts scene for 30 years. She is one of the original founders of No Boundaries International Art Colony that happens annually on Bald Head Island.
Click here to preview the work that will be available during her show.
About the Artist
Gayle Tustin was born in New Castle and grew up in Sharpsville, PA. She has been fascinated with art since early childhood, cutting up old wallpaper books and magazines for pasting into collage assemblages, to making mud pies in the backyard.
Penn State University laid the foundation for her ceramic work as well as Alfred University in NY, after initially completing an Associate Degree in business from Robert Morris University, PA. Tustin is the first person to graduate with honors in Studio Art from the University of North Carolina Wilmington in 1996.
She has participated in numerous artist colonies including Northern Macedonia, Spain, Germany, Brazil, and South Africa. She is responsible for helping to create the No Boundaries International Art Colony, a gathering of local and international artists that meet annually on Bald Head Island to make art.
Tustin has been commissioned for donor tile memorial projects in Wilmington by the Lower Cape Fear Hospice including "Celebration of Life I, II & III" and "Safe Passages", as well as "Bountiful Life I – VI" in Whiteville. Her ceramic relief commissioned works can be seen in Raleigh at the NC State Bar Foundation, " We are the People of North Carolina" and Novant Health in Winston-Salem, "With Compassionate Care" and "Landscapes from Memory".
For more information about Gayle's extraordinary art, read "Freedom, Fluidity, and Flow: The Life and Work of Gayle Tustin" by Fritts Causby in Wrightsville Beach Magazine, September 2023.
On view along with this exhibit will be "Poet's Garden: New Paintings by Helen Mirkil" and "Intentional Camera Movement (ICM): Photography by Robert Beauchene". These new shows by our featured artists will be on view from October 5 – November 19, 2023, with an opening reception on Sunday, October 8th, from 2-5pm featuring live music by solo jazz guitar, Roger Davis!